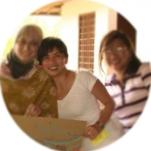 Senior manager and consultant specialized in gender policy and the use of information and communication technology (ICT). Excellent organizational and management skills developed over 20 years leading and managing multi-country and multi-disciplinary action-research teams and online networks. Leading authority on gender evaluation and the use of ICT for gender equality. Excellent English writing and communication skills.
What do you like to do when not consulting for GEMsolutions?
I like creating meaningful programmes and working with others to make them happen.
Describe your experience using GEM in 10 words or less.
Discovering and learning about change.
Describe why you do what you do.
To make the world just and equal for women.
What is the best thing a client has ever said to you?
"GEM has changed my life"
What was your favorite subject in grade school?
I was a nerd, I loved all of them.
What is something most people don't know about you?
I can't sing but I can do headstands.
What is your favorite motto or saying?
Take Back the Tech! to end violence against women