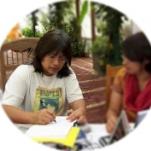 A Malaysian, Angela believes that evaluation is very similar to being self-reflective. It has to inform us, develop us and so, change us. Angela believes so strongly in GEM that she began promoting it long before she became a staff of APC in March 2007. She has effectively encouraged, fostered and strengthened a gender perspective in evaluative thinking with new and existing GEM practitioners, particularly in Asia and Africa (both anglophone and francophone). Although Angela sees herself as a GEM facilitator, she is able to integrate GEM within any organisation's or project's existing evaluation framework. She holds a Bachelor's degree in Economics, specialising in planning and development; and a post-graduate Diploma in Education (TESL).
What do you like to do when not consulting for GEMsolutions?
Living my belief that I'm an artist waiting to be discovered
Describe your experience using GEM in 10 words or less.
It's like playing cupid, because you really do have to touch people's hearts when you want them to be serious in "seeing gender".
Describe why you do what you do.
To catalyse the power of one
What is the best thing a client has ever said to you?
"I really like that example"
What was your favorite subject in grade school?
Art
What is something most people don't know about you?
I am anti-social.
What is your favorite motto or saying?
What lies behind us and what lies before us are small matters compared to what lies within us. ~ Ralph Waldo Emerson